At Air Born Aerials we offer unique and fun classes that can get you into the best shape of your life!
The art of performing on apparatus such as silks, trapeze, sling or hoop. Circus arts are a creative outet as well as an all encompassing fitness regimen. Build confidence and create happiness as you get into the best physical shape of your life!
At Air Born Aerial Fitness you can expect small classes, individualized attention, precise adjustments and a deep committment by our instructors to help you look and feel your best!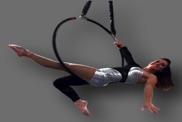 Join us in our beautiful studio!
Fayettevilles only circus aerial school!
4910 Yadkin Rd
Fayetteville, NC 28303